Neil Asher Review – Accelerated Online Learning Programs for Fitness and Healthcare Professionals
Niel Asher has a very noble mission which helps therapists and healthcare workers expand their knowledge and skills through learning. When it comes to "alternative" healthcare, too many professionals are taught to work within artificial boundaries. This includes the likes of acupuncturists, chiropractors, etc. Niel Asher offers terrific trigger point techniques which any type of professional carers can use to relieve pain for sufferers of ailments and injuries like arthritis sufferers. Niel Asher Healthcare is specializing in trigger point therapy courses, books, and guides. All their NAT distance learning courses are designed to be affordable, flexible and making full use of technology.

Massage/Manual Therapist Courses -Buy 1, Get 1 FREE!
What's available on the Neil Asher Site?
Niel Asher provides online video courses on massage and healing. They are a leader in the provision of CE/CPD courses as well as micro-learning products for manual therapists and exercise professionals. NAT student membership gets access to courses, Exams, and certification for yearly payment. You can also shop for accessories like Elbow pain, Massage, Massage tools, Scraping, T-shirts, Tennis elbow, etc. The courses include:-
Most Popular – Courses for Massage and Manual Therapists
This course helps manual therapist or exercise professionals learn more skills. Thus enables them to offer better services and provide more opportunity for specialization. This is a buy one-get one course.
Courses for Exercise Professionals
Dry Needling / Medical Acupuncture
Frozen Shoulder Courses and Publications
Trigger Point Tools & Accessories
Self Help Guides
Annual Membership Plans
What is the Neil-Asher Technique (NAT)?
The Niel-Asher Technique is a method of treatment which utilizes the body's own healing mechanisms and is completely natural. It requires no drugs and no surgery. The technique uses a unique sequence of manipulations and pressure points for healing the shoulder joints and soft-tissues.
A bit on the courses:

The digital edition of all courses includes lifetime access to the course material through virtual classroom. The course text can be downloaded and printed locally and the video material may be downloaded too.
The print edition of a course includes everything in the digital edition and the main course text in print.
You can take any certified exams in their Virtual Classroom.
NAT courses are designed to provide continued education improved skills and updates for qualified therapists, healthcare workers, and exercise professionals.
Fully illustrated courses which deliver practical knowledge.
NAT certification is recognized worldwide for excellent education, and NAT certified members practice in over 40 countries.
Cost of Courses
All courses are nominally priced and even began as low as $59.95. The higher range is not too high and you have a few courses at $249.95. For the value you get and the boost for your career, this is definitely value for money. There's also a Buy 1 Get 1 Offer! In order to benefit from the offer you need to place at least two courses in your cart and the cheaper of the two will then be discounted 100%.
Membership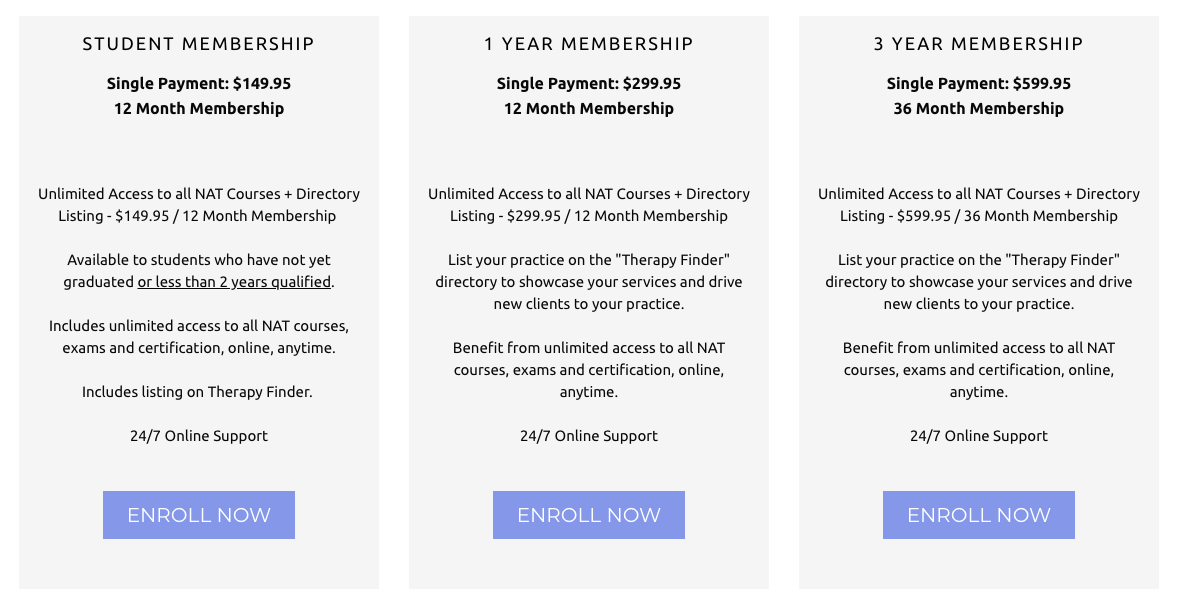 Enroll Now
Their Education Membership Plans provide unlimited access to all NAT courses. It includes full access to all exams, NAT certification, and CE/CPD/CPE certification. Also, get free directory listing for you/your practice on Therapy Finder.
Shipping and Returns
Digital products are sent by email when you order and if the email is not obtained in 10 minutes of placing your order, email them at [email protected] IN the case of products, they ship within 7-10 business days. Shipping is free for all orders over US$50 value. All products may be returned unused in the original packaging. for any refunds.
Customer Reviews
"The course was great and I learned a lot. I have used trigger point therapy on clients for years, but this really goes into detail. Was well worth it."
Pauline Soares, Licensed Massage Therapist, Metairie, Louisiana
"I took your course in April last year and it has revolutionized how I treat my patients. Hands down the best CPD course I've ever done!"
Silva Rashida, Schuldt Osteopath, Bedfordshire, UK
Conclusion
Niel Asher helps serve therapists and healthcare workers to boost their career by learning and self-improvement. Niel Asher Healthcare specializes in trigger point therapy courses, books, and guides. They have nominally priced courses, competitive exams and to know of Niel Asher's great offers, visit their site.
Get more stuff like this
Subscribe to our mailing list and get Latest updates
Thank you for subscribing.
Something went wrong.