KiwiCo Crates Coupon Code – An Exploration of Activities
KiwiCo is an innovative monthly subscription that provides kid's educational crafts, projects, tools and activities on various themes. It is a great idea to encourage creative freedom for kids, encourage them to learn themselves, inculcate a sense of discipline and spend time with them. The main aim of KiwiCo is to make STEAM that is Science, Technology, Engineering, Art, Math fun, accessible and engaging. They want kids to learn and inspire them to create, make and feel like artists and scientists. The best part about it is they cater to a large age group. From age of 0 months to 16+, most formative years of a child are covered and this is the most amazing thing about it.
KiwiCo Crates Courses
What is the aim of KiwiCo?
It seeks to provide activities that will set your child learn as they grow and be that perfect homeschool. All KiwiCo activities are-
Creative
Educational
Convenient
What are the crates offered by KiwiCo?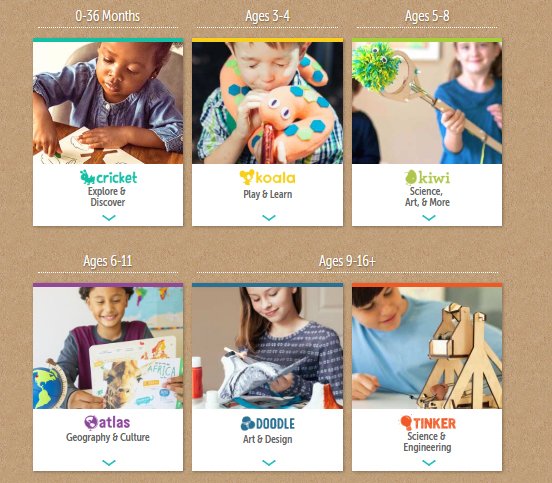 Cricket Crate for age groups 0-36 Months for "Explore and Discover"
Developmentally Appropriate Projects keeping child's age in mind
Wonder Magazine for the info, tips, and activities to do with child
Online resources like DIY, fun printables and articles
Cricket Board Book to initiate language and literacy skills
Sample crate themes rainbow, Neighborhood fun
Koala Crate for age groups 3-4 for "Play and Learn"
Creative materials are High-quality materials for fun activities
Parent guide is an activity guide to support inquiry for parents
Imagine! The magazine is for extended learning with games and stories
Online DIY ideas are tips, tricks, and tutorials.
Sample crate themes are Ocean Adventure, Reptiles, Transportation
Kiwi Crate for age groups 5-8 for" Science, Art and More"
Maker Project which is a fun way to explore science, art, and engineering
Creative Learning is kid-friendly ideas for creative projects
Explore! The magazine is a game and experiments comic
Online DIY ideas are tutorials for all
Sample crate themes are Arcade claw, the science of color and shadow and light
Doodle Crate for Ages 9-16+ "Art and Design"
Quality Materials like washi tape, yarn
New techniques to doodle, step by step instructions
Inspiration Sheet for creating your own designs
Video Tutorials are those online tips that are useful for all
Sample crate themes are a terrarium, woodworking, and screen-printing
Tinker Crate for Ages 9-16+ for "Science and Engineering"
Awesome project materials to create an innovative STEM project
Tinker zines are additional science activities and experiments
Blueprint are detailed instructions
Sample crate themes are hydraulics, motor activities, and Trebuchet.
How does it work?

First one has to pick up the age-appropriate projects they think their kid should try. Then one should choose the subscription plan and the first crate will be shipped within two days. After that, there is no end to creative learning.

What makes KiwiCo Awesome?
Every box is equipped with all you need. So, you don't have to rush out to find a tape or rack your drawers for glue. It is all in the BOX!
Pictorial plus word presentation for all activities makes the instructions extremely friendly
One can switch between boxes, so if your child outgrows a Koala crate you can ask for a Kiwi one.
All boxes have fun stories included
All boxes have extended online activities for more fun learning
All boxes are of high quality
Pricing
| | | |
| --- | --- | --- |
| Monthly | $19.95/month | Saving: $5/month |
| 3 Months | $19.95/month | Saving: $15/month |
| 6 Months | $18.50/month | Saving: $38/month |
| 12 Months | $16.95/month | Saving: $95/month |
They also have a Deluxe subscription for Koala, Kiwi, and Tinker at an additional cost of $9.95 per month.
How to get KiwiCo boxes at the best Prices?
The best way would be to Sign up for their newsletter and get 30% off. Another way is to follow them on their social media handles to know when the sales for Christmas and New Years are up. They even have a referral program where one gets 10$ off.
Verdict
In all, KiwiCo is an amazing subscription box for many age groups. It is that perfect savior and is a self-sufficient kit. It is a great indoor activity with learning and fun combined. So if you are looking for a few minutes of peace, do yourself a favor and order this box cause this will keep your child occupied
Get more stuff like this
Subscribe to our mailing list and get Latest updates
Thank you for subscribing.
Something went wrong.