Nest Learning Review – Best Home School Supplies
Millions of children are homeschooled every year for various reasons. Homeschooling is often chosen due to disbelief in the system, religion, problems with teachers etc. Hence for all those who homeschool their children, having the right educational tools helps you give them the best education possible. Earlier when parents had to rely on local retailers, it was a challenge to find the right materials. Now, the web is the No.1 choice for parents to look for the right resources. This is where Nest Learning comes in.
What exactly is Nest Learning?
Nest Learning offers a wide selection of homeschool supplies for preschool to 12th grade. It's not just school supplies, they also provide Christian education Nest Learning began their journey about 20 years ago with a passion to impact the lives of children with stories of world heroes and heroines and stories from the New Testament and Hebrew Bible. Besides their core Animated Hero Classics and Bible series, they also have enriching stories and high-quality animated work including the feature film, Swan Princess.
Nest Learning offers a wide range of Home School Supplies at affordable rates. Nest Learning should be your first place to look for quality home-supply products.
What's available on Nest Learning?
For the best homeschooling curriculum and products, at affordable rates, choose from the plethora of products on Nest Learning. You get supplies from pre-school to Grade 12.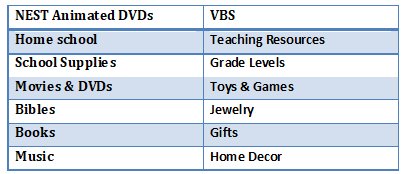 Some of the best products on Nest Learning include:
The NEST Animated DVDs include DVDs of John the Baptist, the Good Samaritan and many more such character stories. Kids would watch these DVDs and learn values like honesty, love, compassion etc.
Arts and Crafts
The Arts and Crafts from Nest Learning can improve a student's creativity and visual and motor skills. Tap and train the left side of your child's brain. And complement academics and arts.
Toys – By expanding offerings and distribution to include products such as home education, Sunday School and VBS curriculum, digital delivery and wholesale/retail distribution.
Music- All kinds of music including Christian music, instrumental music and NEST music
Why is their Homeschool Curriculum so popular?
Their homeschool curriculum includes NEST Animated New Testament, Animated Bible Stories, and Animated Hero Classics series. Their collection of homeschool curriculum is for the entire family which includes trusted homeschool brands such as Alpha Omega, Learning Wrap-Ups, Wordly Wise 3000.
Grade level curriculum costs range from an affordable $250.00 and up. Most grade level kits, as they call them, include all five core subjects. Nest also sell supplementary resources for learning to further in additional subjects like grammar, math, social studies language, bible studies, and more.
With the help of the site, you can also make a decision about the homeschool curriculum which works best for you. You also get bulk discounts when you purchase Homeschool curriculum products from them.
Classroom Resources
They have over 5000 classroom resources including posters, calendars, cut-outs etc.
Shipping Details on Nest Learning


Free shipping in the US on all orders over $79
How do you download a purchased product?
Log in through your account into their site! Go to the order/billing history and click the download link located below the Shipping Status title.
Save the purchased product's soft copy and open it once it is fully downloaded.
Clearance Sales and Deals
Enjoy special sales on clearance items as well as special deals. All favorite items and best sellers are frequently discounted and they move in a jiffy!
Watch out for more in this space.
Receive $10 on Every $100 Spent.
All Educational And Curriculum Resources for up to 50% Off.
Use Coupon Code

HED10

and Enjoy 10% Off on all Homeschool Curriculum.
Ratings:
Customers love the animated DVDs on Christian learning as well as the wide range of options for homeschooling. The site has an average rating of 4.6/5 stars for most of its customers.
Bottom-line
Nest Learning offers all products at affordable prices. It saves a lot of time for homeschooling parents. From the convenience of your residence, you can find homeschool supplies and Christian DVDs and music without numerous trips to shops.
Get more stuff like this
Subscribe to our mailing list and get Latest updates
Thank you for subscribing.
Something went wrong.