Kranse Institute Review – The #1 Digital College Prep Courses
Kranse Institute is a test preparatory institution which offers an online, on-demand SAT-prep program. It is based in Las Vega, Nevada and ai students and aids would-be college entrants to get the highest possible scores in three main standardized tests based in the US namely Scholastic Aptitude Test (SAT), the Preliminary Scholastic Aptitude Test (PSAT) and the American College Test (ACT). Kranse Institute scores well when compared to other sites offering programs in the online courses industry; however, Kranse with its amazing features stands out.
Get 50% OFF
New Year Special – 50% OFF on Prep Course Enrollment by using this Coupon Code
Verified
Click To Copy & Apply Coupon
The Kranse Edge
What's available on Kranse Institute?
Kranse offers digital prep courses for all your big college courses like SAT. The exams covered include SAT, PSAT / NMSQT, ACT, and GMAT. The courses are taught by Shark Tank winner and perfect score student, Shaan Patel.


Enroll Now
What sets Kranse's Courses apart Compared to Other Brands?
All their videos are short, clear and crisp that engages and is no more than 10 minutes. They cover the subject well, with a unique approach to teaching strategies to solve problems rather than review and memorize.
Highest score and improvements are guaranteed. An average score increase of 210 has been observed
with most scores improve from 50th to 90th percentile.
It is observed that students not only learn subject material but good strategies for problem-solving as well.
They offer a SCORE IMPROVEMENT GUARANTEE unmatched in the industry.
They let you access all the courses for up to 18 months. While we observed other competitors, it's just for a few months.
Easy Access
You can access the courses from any digital device or from an app which has free lifetime access.
You have flexibility for 9 possible test dates. The app helps keep students motivated and updated through notifications, contests, etc. The Kranse SAT-prep mobile app is an affordable, accessible tool for any student.
High Success Rate

Enroll Now
They have a whopping 97% success rate and it has been proven time and again. They have assisted 60000+ students over the years with many scoring a perfect 2,400 points and almost all reporting a surge in their scores. All courses updated to the latest test format.
Affordable Pricing
Apart from the prices being affordable, the institute operates a 7-day 100% Money-back Guarantee. It has decided to charge students only if their SAT scores actually improve. In addition, when you use relevant coupon codes, you'll save a lot on your order.
Outstanding Recognition
The overall success of Kranse Institute SAT, PSAT, and ACT preparatory courses has led it to be featured in a number of news networks and they include big names like the NBC News, The New York Times, Bloomberg Businessweek, USA Today etc.
100% Money-back Guarantee
Kranse Institute has offered a wonderful solution where you have a no questions asked, no reason required 7-day 100% money back policy. If your scores do not improve after completing the Kranse Institute digital prep courses, they refund 100% of your money. Isn't that a wonderful guarantee on the fact that you will improve significantly and also a sign of their confidence.
Pricing Information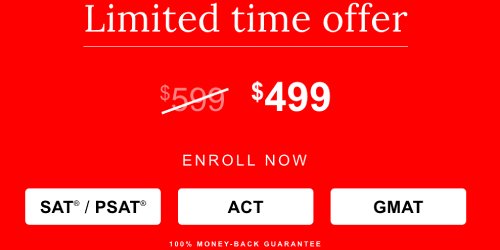 Enroll Now
The prices are pretty affordable given the success rate and your chances of moving to a university
that you aspire for are pretty high. They are giving a Limited time offer where the courses cost $499 as against $599.
Added benefits include
EXTENDED STUDY for an ADDITIONAL 6 MONTHS (18 months total access)
"Advanced Strategies for College Applications" eBook FREE!
Ratings
All top review sites have given them good ratings. Sites like Shopper approved have given them 4.8/5 by over 4000 customers. Here's a look at the testimonials.


Kranse Institute – Should you Opt for it?
We loved the fact that the average score of improvement for their students is at 210 . The bite-sized videos included are an attractive offer because it's really hard for me to keep my focus for a long time. Each video encourages you to learn more and access for yourself. They also gave me enough access to learn—18 months to be exact. The best part is that it provides a more comfortable environment to learn at your own pace.
Get more stuff like this
Subscribe to our mailing list and get Latest updates
Thank you for subscribing.
Something went wrong.