5 Best Digital Marketing Courses on Udemy
In the age of the internet, digital marketing skills are crucial for any entrepreneur or those working in the field of marketing. It's important to have a working knowledge if this aspect of the business which will help you guide your team. Here's your chance to get a knowledgeable oversight of various digital startup campaigns with the aid of these five top digital marketing courses on Udemy.
The Complete Digital Marketing Course – 12 Courses in 1
Highlights of the Course
Make informed decisions on marketing your business
Grow your business from the beginning
Embark on a career in digital marketing
Work as a freelancer in digital marketing or run your own firm
[2018] Growth Hacking with Digital Marketing (version 5.2)
Highlights of the Course
Learn to track and leverage traffic using Google Analytics
Understand growth hacking and integrate data-driven and adaptive culture to improve your results in digital marketing.
Design customer action funnels
Improve conversion rates and write better marketing content online
Grow your social media audience
Segment email lists used automated newsletters and email marketing communications
Digital Marketing Masterclass 2018 – 23 Courses in 1
Highlights of the Course
Use multiple proven digital marketing strategies
Improve brand identity and grow your brand finding a larger audience and reach
Learn social media marketing making your presence felt on all popular social media platforms to develop your business
Increase your email list, subscriber count, social media following and website traffic
See concrete results by taking action throughout the full course
Increase conversions and sales with real-world techniques
Moz Advanced SEO: Tactics & Strategy
Highlights of the Course
This course provides a framework for increasing your SEO strategy
Learn to use tools for analysis and implementation.
A step-by-step process for how to implement SEO development with your clients.
Great for both internal teams as well as new marketers that want to augment SEO to their portfolio.
Inside-Out / Outside-In methodology for classic SEO.
Reviews on Udemy Marketing Courses
All the courses featured above have excellent reviews as is evident from their ratings. They have been sought after by digital marketing professionals who have benefitted and gone on to own their field. All the above courses can be learned by anyone who wishes to embark on a career in digital marketing and any budding entrepreneur. Opt for these nominally priced courses and shine as we bring you a few reviews below.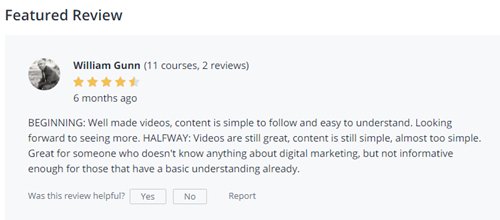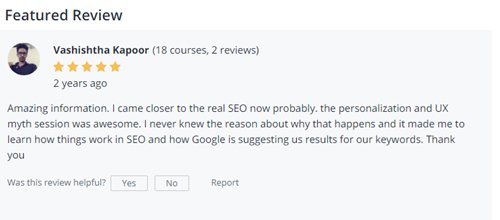 Get more stuff like this
Subscribe to our mailing list and get Latest updates
Thank you for subscribing.
Something went wrong.