Lingoda Review – Online Language School
Lingoda offers online language lessons to those who wish to learn them with qualified native speaking teachers. As we all know, to learn a language well, you should not just be able to write it, but also speak it. Language exchange partners help a great deal, but you do not get individualized attention. The best way to learn a language is on a one-on-one basis. There are many places to find language teachers online, but to ensure you get the best, a fair amount of research is required. This is where Lingoda scores.

What is Lingoda?
Learn languages with Lingoda
It is an online language school which teaches Spanish, English, French, and German. All the lessons are based on the CEFR levels (A1-C2). The best thing about Lingoda is that they offer lessons 24*7 with native speaking teachers with 2 choices, both as an individual or as group lessons. You also have an option of taking your lessons via either Skype or their virtual classroom.
Lingoda is not just another virtual lesson platform. They offer personalized lessons to align with your level in the language, and your personal interests as well as CEFR course structure.
What are the Courses available on Lingoda?
The following languages are offered. English, German, French, and Spanish. The languages are offered as Private or group classes. Other features include
Learn 24/7 at your convenience
Native language speakers
Study from anywhere
Face-to-face with teachers
CEFR certificates(A1 to C2)
Why should you choose Lingoda over others?
Every single student on Lingoda has a personal adviser.
Quality of the teachers on Lingoda is very impressive. They have detailed knowledge and command over the language they teach.
If you didn't have a great experience, Lingoda refunds you as long as you make the request within 7 days.
All lesson worksheets can be downloaded in advance to make sure that the content is a good fit for you.
The CEFR certificates recognized in universities, and useful for visa or job requirements.
You can take the course at your own pace and from anywhere. You have a virtual classroom giving you the feel of a university classroom.
Do a level test or a private class with Lingoda to find which level you need to take.
You benefit from native speaker teachers in small-class size environments, so it's quite competitively priced.
Better and faster results than when learning with an app
All study materials are included in each package.
How does Lingoda Work?
With Lingoda, you have to pay a monthly fee to get class credits. According to your wish, you can choose, group classes, private lessons or both. Group classes shouldn't scare you away as they are fairly small with 4-5 learners and last an hour long. Classes are divided into skills, reading, writing, and conversation. Group classes are held in virtual classrooms, enabling teacher and students to interact in real-time.
For each language and level, you can see these options. You can also select time and days based on your convenience. You have great flexibility to change them.
You can take notes as the class progresses. It's good to go through the learning materials before each class. The teachers are native speakers, experienced with the system and the material.
Pricing
You have a 7-Day Trial valid for 3 group classes at $23.99. If you wish to continue you can choose from the following
Continue with 10 group classes for €99/month
Continue with 20 group classes for €169/month
Continue with 30 group classes for €229/month
The monthly packages include the following – For group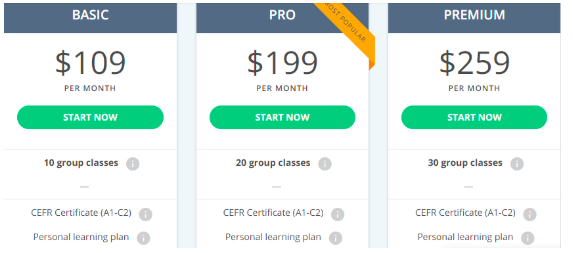 Choose Your Plan
Private Lessons
They are a bit more priced that group classes for the obvious reason that you get individual attention.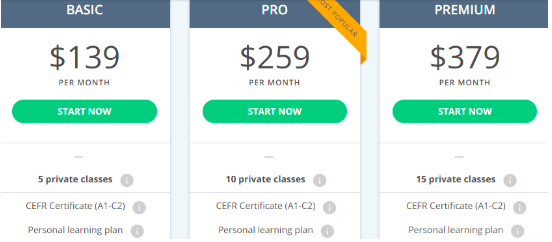 Choose Your Plan
Certificates
For classes + certificates as a combination package, the following are the rates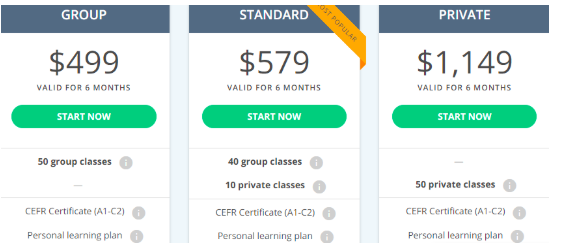 Choose Your Plan
Please look at their site since the prices may be updated from time to time.
Reviews
Almost all customers seem to love Lingoda for the comprehensive lessons, good teachers and learning flexibility. External review sites like Trust Pilot have good ratings for them.
Trust Pilot – 8/10
Learning Languages Online – 8.6/10
Consumer Advocate 9.1/10
What needs to improve?
The lesson booking tool is a bit confusing to use
Additional languages should be offered as a part of Lingoda
More consistent feedback should be available from instructors
Would we recommend Lingoda?
Those who wish to learn a language well, finding it difficult to find live classes will find Lingoda is a great alternative. The advantages include having native speakers as teachers, flexible class scheduling and recognized certifications add value to these courses. It's a life saver for those like immigrants trying to learn the local language.
Get more stuff like this
Subscribe to our mailing list and get Latest updates
Thank you for subscribing.
Something went wrong.