EDUCBA Review – Learn Life Skills with these Online Courses
EDUCBA is an online site which provides life skills-based courses to people across the globe. There are more than 5,00,000 members who reside in over 40 countries who have benefitted from these courses. They have a unique learning model which teaches you step-by-step and over 5511 courses you can benefit from. The best part of these programs is that they not only train you theoretically but are job oriented to help you with a flourishing career. You can enroll and take up courses 24*7 at your convenience. The best part is that it is an initiative of IIT-IIM graduates so you can vouch for the quality which comes with experience and from the best.
Why should you choose EDUCBA for your Courses?
5511 Courses and new courses are updated continually – a wide variety of high-quality professional courses
More than 500,000+ Learners – Join the community and exchange ideas
400+ Expert Instructors– carefully curated tutorials by expert industry professionals
New Courses Daily – Learn practical application-oriented skills daily
24*7 Unlimited Access
access to entire online course library
e-campus with thousands of hours of content
Lifetime Subscription Availability
Accessibility to online courses anywhere
Live case scenarios & exposure to corporate world training
Technical Support from the EDUCBA team
Provides Certificate when you complete the course
What are the most Popular Courses available on EDUCBA?
There are 5511 online courses & 151 Job Oriented Programs in various fields including Finance, Data, Design, Technology, and Business
The top popular courses include:
How do you select a Course on EDUCBA?
Register
Register yourself (free or paid) in a few seconds and get immediate access.
Search
Search for a course of your choice checking out popular categories or through the search button at the top.
Start
You can start learning real-world skills immediately after registration.
Certificate
Get a verifiable certificate of completion after each course.
Pricing
The prices vary according to the course selected. Prices for the all-inclusive bundle of entire EDUCBAcan be viewed here.

Prices for various other bundles vary according to the bundles, number of courses, duration of the course etc.
Some of the Popular Bundles include: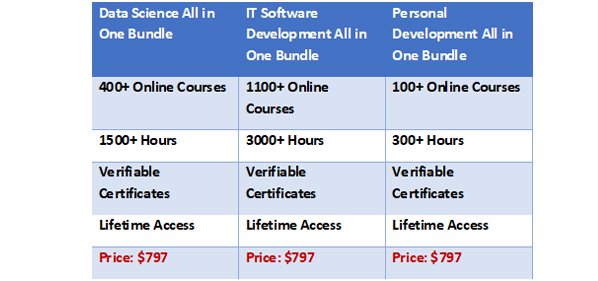 Start a Free Trial
Start your free trial now!
What are the other Special Offerings from EDUCBA?
The offer corporate training for employees at best prices. They cover courses across domains such as Finance, Business, Technology, Data & Analytics, Soft-skills, etc. They have trained corporates like * Morgan Stanley, JP Morgan, Bharat Petroleum etc.
College Training is offered to bridge the gap between academics and industry. They have been associated with institutes like IIPM, VIT, SRM University etc.
Reviews
The site has got some great reviews and has an overall rating of 4.6/5. Here are some of the top reviews from the site.
4.6/5
A Course Worth Taking
This course is a must for those aspiring for Project Management positions. The course starts from basic and advanced excel, introduces financial statements and ends with a comprehensive discussion on project finance modelling based on an example. The discussion of ratios such as DSCR, IRR, NPV etc which are significant in determining the feasibility of the project, were the key take away of this course.
– AmeenAkramSharief
Investment Banking- An Overview
Thanks to the team that put this together. The facilitator is superb and the content I find to be very relevant. Time allotted for each lecture is okay. However I found the caption hard to follow perhaps because of the error in transcribing. The fluency of the facilitator made up for it. All in all I have learnt a lot about Investment banking industry from this course. Thank you.
– Adams SegunAmaechi
Bottomline
This EDUCBA Review would help you to understand the successful online training programs which they offer to their customers at a negligible cost. So get started your journey of learning skills with EDUCBA.
Get more stuff like this
Subscribe to our mailing list and get Latest updates
Thank you for subscribing.
Something went wrong.